FREE WIFI - wireless - HOTSPOT
Hotel Victoria, Zeller Strasse 10, 5751 Maishofen b. Zell am See, Austria
Opening times Hotel Victoria: Mo-Mo 08.00 am - 10.00 pm - all year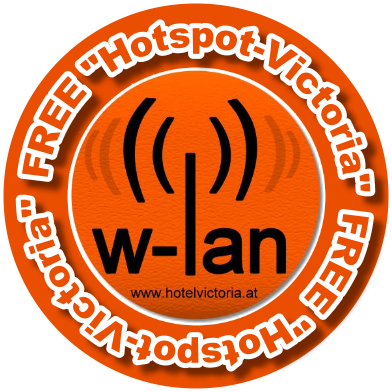 FREE WIFI
"Hotspot-Victoria"
WIFI 0:00 am- 12:00 pm (subject to availability)

Easy access by clicking on
at the "Hotspot-Victoria" Main page
---
Range and performance of the system:
Hotel and room area (excl. dancing bar and wellness oasis)
---
Parents are responsible for their children!
All entries are logged. If problems arise from the infringement, so we will use the log file to evaluate, report it to police and ask all costs for charged!
You accept responsibility for any damage!
Terms of Use for freely accessible guest LAN / WLAN

The guest WLAN is put them on the operating available.

Scope
By providing the Internet access assumes the operator no obligations to customers, visitors and guests.
Depending on the specific application, there may also be restrictions on use and it may be necessary to enter a code.
Service and functions
The operator acts purely as an access enabler. No legal claim exists to (uninterrupted) use and/or a specific Internet access speed. Undisrupted service cannot be guaranteed due to the technical conditions. The operator does not offer unlimited availability of Internet access or the accessibility of servers and makes no guarantee of the faultless transmission or forwarding of data traffic.
The data transmission takes place unencrypted. The transmitted data could under circumstances be viewed or modified by third parties. The operator is not obliged to secure the data transmission.
The user explicitly acknowledges that the Guest LAN / WLAN only enables access to the Internet and does not offer any virus protection or firewall.
User obligations
The user is responsible for the data transmitted over the Guest LAN / WLAN, any pay services utilized and any legal transactions engaged in.
The user is obligated to comply with applicable laws during his/her use of the LAN / WLAN. The user is prohibited from misusing the Guest LAN / WLAN or allowing the Congress Center LAN to be misused.
In particular, the following are prohibited:
· Commercial use of the LAN / WLAN
· Downloading or disseminating immoral or illegal content (in particular pornographic, violence-glorifying or seditious content)
· Illegal reproduction, dissemination or making-available of protected intellectual property
· Violation of the applicable data privacy regulations
· Sending or disseminating harassing, defamatory or threatening content as well as instructions for or the inciting of criminal acts;
· Use of the service by third parties, in particular reselling of the service to third parties, requires the express written approval of the operator.
· Use of the offert LAN / WLAN for sending unsolicited mass mailings (spam) and/or other forms of impermissible advertising
· Visiting file-sharing websites, in particular starting music and/or film downloads
· Sharing of passwords and access information. The user is obligated to keep his/her passwords secret. He/she is liable for damages resulting from insufficient password secrecy.

The user agrees to ensure the proper configuration of his/her device ID.
The user accepts responsibility for ensuring that the device used and the software it contains are free of viruses and other malware; the user must provide compensation for the direct or indirect damages arising for the operator due to a breach of this obligation.
All disruptions that arise must be reported immediately to the operator..
Terms of use violations
Use of the LAN / WLAN can be revoked at any time without a specification of reasons in event of a violation of the terms of use or the suspicion of such a violation.
If the operator is subjected to claims by third parties for any reasons whatsoever due to the use of the Guest LAN / WLAN by the user, the user is obligated to indemnify the operator in this respect.
The costs for the use of transmission equipment up to the selected point of presence are not included, nor are any costs charged by third parties for the use of services.
Data retention
The user grants his/her express approval that the connection data may be stored and in some cases shared in order to comply with laws, provisions, legal proceedings or inquiries by prosecuting agencies.
Liability
The operator is liable for any personal injuries or material damages only insofar as statutory provisions require a mandatory liability that cannot be excluded by agreement (e.g. for intent and gross negligence). All other liability, in particular for data, hardware and software, is excluded.
The operator is not liable for the content of transmitted data or for the content of data that is made accessible via use of the service even if the access takes place via a link from the homepage or start page(s) of the operator.
Closing provisions
The materially competent court in Vienna is agreed as the sole place of jurisdiction for all disputes arising in connection with these terms of use and due to the use of the Congress Center WLAN.
Contact in case of unavailability:
Rezeption oder Hotline/SMS (from 9:00 am - 9:00 pm)
+43 664 4000160
ͼͼͼͼͼͼͼͼͼͼͼͼͼͼͼͼͼͼͼͼͼͼͼͼͼͼͼͼͼͼͼͼͼͼͼͼͼ